This page is reasonably up to date! Please credit us if you use this information and include a link back here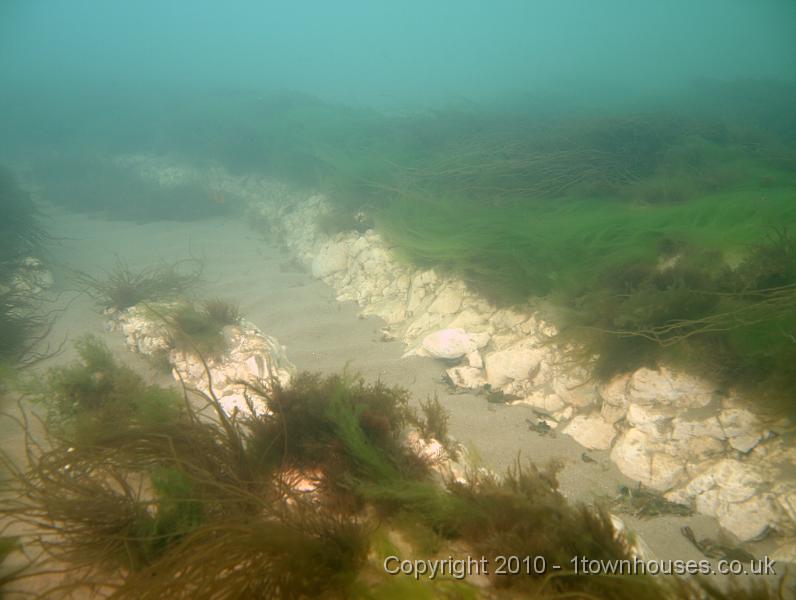 East Runton: Seaweed garden of Norfolk



Our wreck page has been very popular and as, to be honest, the planning information is the same we didn't rush to add one on diving the chalk reef in general. Now a few too many years on this seems a bit of an oversight. So here's a quick guide to diving the reef safely and responsibly.



Slack times - changed and updated for 2015 (July)

Diving in Norfolk revolves around the tides. The different dive organisations place varying emphasis on tidal planning and this is where covering it properly pays off! It is the difference between a nice dive and horror stories of being carried off down the coast. You may also find that your threshold for current is higher or lower than other people's, most divers prefer to dive at dead slack.

As with the twin wreck challenge, slack times for the chalk reef are reasonably easy to work out and provide at least an hour of pleasant diving even on spring tides. The slack window can be up to two hours on a good neap, but it's always worth leaving yourself with a safe margin for the swim back to shore. Even if the tide does pick up, you'll only be carried along the coast – keep heading steadily to shore and at worst you'll have a long walk to deal with.

Using the BBC tide tables (found on their weather site) for Cromer will give you information up to one week ahead. These tables are in UTC, which is GMT by another name. If using other tables check which they use.

Traditionally, adding 2 hours to the GMT times given for high or low water would give you the centre of slack during BST, i.e. on your watch from March to October, and entering the water 30 minutes earlier will be a safe 'walk in' time. And that's 'real' time in the summer, no need to make further adjustments!

A quick example: High tide is 06.59 GMT, centre of slack 09.59 BST, safe walk in time 09.29 BST

These times can shift a bit with the movement of sandbanks offshore and last year high slacks were up to 30 mins late and lows up to 30 mins early. The water will be running fairly slowly, so you can decide whether to put up with it for a bit, or hang on. Persistent winds can drive the sea and add to or reduce the tide, so don't take anything for granted!

Currently

, we add 3 hours to GMT (2 hours to BST) high and low tide times for centre of slack and then subtract another 30 minutes to find the walk in time. In summer (BST) this means that you'd aim to walk in 1.5 hours after BST high and low tide - isn't that simple?

Example: High tide is at 6.25 GMT (7.25BST), so add 2.5 (or 1.5hours after a BST tide) and walk in at 8.55 BST for a nice dive :-)

N.B. You use and confuse these calculations at you own risk. As a general rule although PADI doesn't teach tidal planning it is often BSAC divers and clubs who we meet suffering in the surf and walking back long distances. This suggests that a little unpractised knowledge is a dangerous thing and that starting from scratch and double checking will avoid mistakes. We would not recommend doing calculations for shore diving from tidal diamonds on charts - the inshore tides are different.


Dive sites

T

he chalk reef stretches for at least 20 miles along the North Norfolk coast, so there's no shortage of choice for dive sites! Listed below are some of the easiest and (so far) prettiest to get you started. From West to East. In general all these sites slope down gently as you head north so you can choose your depth from 0 to around 8m deep. There's plenty of good diving to be had in less than 5m but if there is a swell it will be energetic until you get a bit deeper. Getting much more depth requires a pretty long swim of 300-400m.

Cley

Aside from the Vera other dives are limited at Cley. There's a boulder plain both sides (north and south) of the Vera and the forest bed a considerable distance further out.

At both Cley and Weybourne angling is popular - and returning to the beach on any kind of tide will take you past a few of them. Most are quite reasonable and will realise that a noisy diver has scared away anything of interest and get their gear out the way so you are out of the way as soon as possible. They're another reason for not dragging a surface marker on inshore dives unless you need to - when you can hear boats and need to return to the surface.

Weybourne

If you don't fancy the long walk to the Rosalie, there's some very nice chalk just off the car park. This car park is pay and display, but the machine often gets vandalised, making for a bonus free day. There are no public toilets for miles, so pause at some on the way there, or wear a wetsuit! There's also a bit of petty theft, so lock everything (including things like changing mats) into your car and have a plan for the keys.

If you're diving the Rosalie, this is a handy dive to do on the opposite (high) tide, as the chalk improves if you follow the cliffs a little way to the East and the tide will carry you back towards your car. The chalk starts out in isolated lumps which are quite soft, so very popular with edible crabs and lobsters. Generally, they get bigger and tougher with depth, taking on more life. The visibility also improves and there's occasional, odd bits of war defences and mangled metal. There's exposed clay about 300m out, which often has antenna hydroids covered in slugs.




Sheringham

This is the 'centre' of the reef, where arches and deep gullies can be found. These do require a 300m swim and reasonable navigation, but the whole area is chalk, so even a short swim will be worth the effort.

1. The Esplanade

This site has some free parking, public toilets and RNLI lifeguards who will take an interest in your activities. It's polite to tell them what you're up to and when you'll be returning – don't underestimate and cause a panic! The beach is initially annoying shingle, then flat sand which is revealed at low tide. The chalk starts where the groynes end and becomes more rugged and full of life the further you swim north. Boulders, small walls and gullies covered in mixed algae, squirts, sponges and hydroids are within 100m of the beach. These are heaving with lobsters, scorpion fish, edible crabs and dahlia anemones. To return to the beach, just swim south.

The most likely hazards here are occasional small boats and jet skis. It's a good idea to carry a DSMB in case you need to surface away from the beach, but having it inflated all the time means you'll have to negotiate lobster pots (please don't interfere with working pots!) and it gives the jet skis something to play with.

If you want to try to reach the deep gullies, they are at least 300m north of the Burlington Hotel (the only really tall building left!), best to pick a good neap and swim out at a steady pace, keeping an eye on the time. The gullies run roughly North/South, so can be followed out to the ends. The area beyond them is a flint plain for quite a long way. It has interesting life, but it doesn't change much, so no need to keep going too far.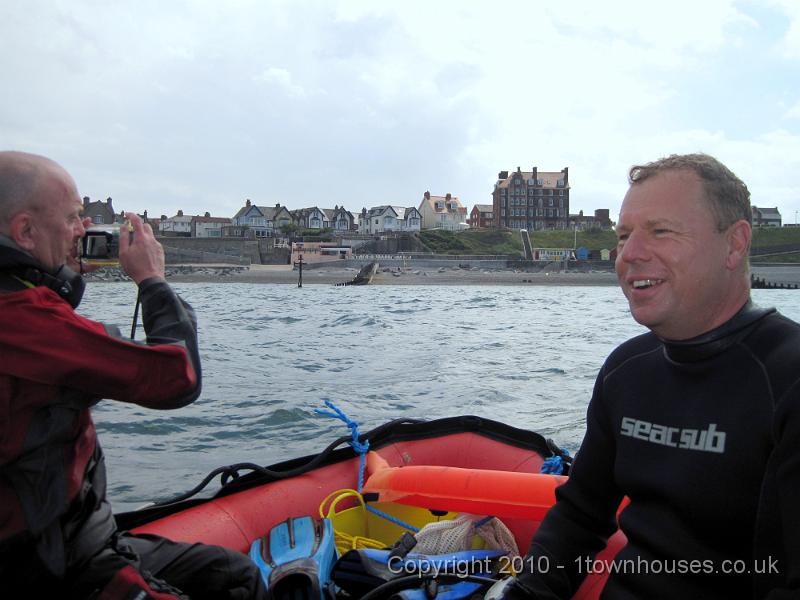 Sheringham: The Burlington Hotel really is the only tall building left in the town. See how happy divers can be (L) and ...A reason why, shoaling Bib out by the deep gulllies.

2. Cliff Lane
Another good site to try is at the east end of town, parking either in the Cliff Road Pay and Display carpark (the cafe directly below is really good!), or by the pitch and putt further up the same road, which has limited free parking by the roadside. This area has more isolated huge lumps of chalk with big sandy areas between, which are very good for little cuttlefish and weever fish. There is also an abandoned victorian sewer pipe which attracts the kind of life normally found on wrecks.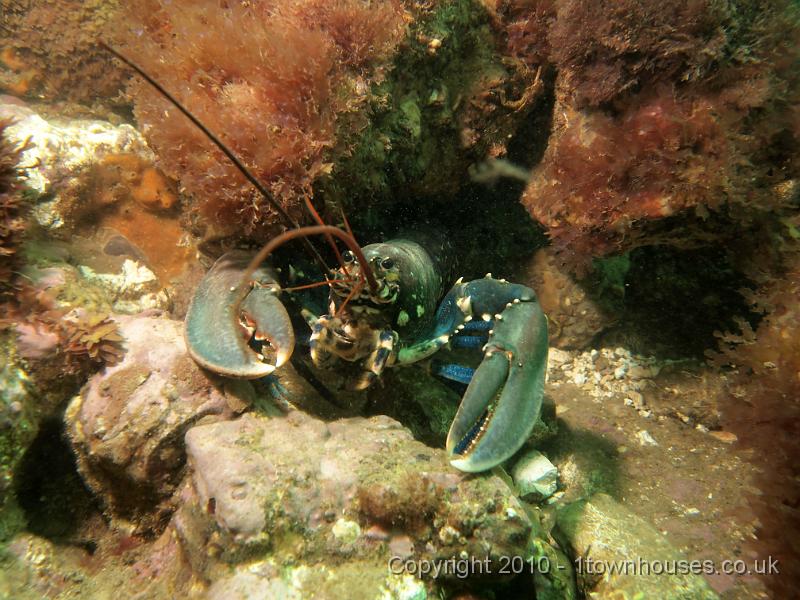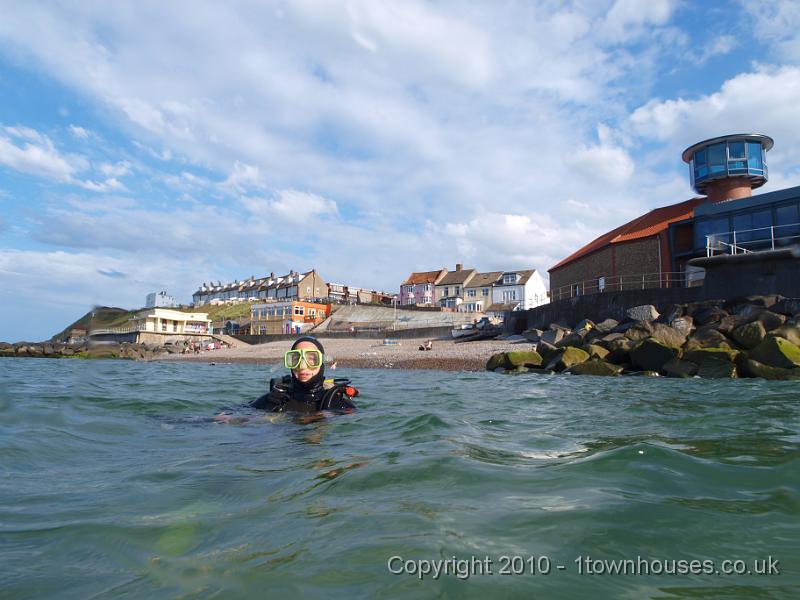 Sheringham: Lots of lovely chalk for lobsters (L) and Coming ashore below Cliff Lane car park - Mo museum (tower on right) and Funky Mackerel cafe above Dawn's head (R)

West Runton
There is a private P&D car park, cafe and toilets at this site – the cafe and toilets seem to close quite early. The walk down from the car park is fairly steep. You'll need to head to the right of the main groyne to get safely into the sea and you might want to do it on a low slack the first time to check where the safe paths through the ankle breaking flints are. Don't head to the left onto the chalk platform and don't try to come back in that way – if you can't make it back to the entry point, you'll need to go a long way West to get around the chalk! The chalk is highly slippery, full of sudden holes and littered with huge flints; crossing it in dive kit is a fast way to broken bones.
This site is straight onto chalk which has been polished by wave action. The seabed tends to be smooth and undulating with some large chalk and flint boulders. The variety of life increases with depth and is mostly odd encrusting stuff in bright colours – squirts, sponges and bryozoans.
East Runton
This is another council P&D carpark, with toilets and a handy chip shop at the top of the road. The greek restaurant next to the car park makes for a fantastic, surreal night out! There is a 'Coastwatch' station in the carpark who will look after your keys for you, but they close at around 5pm. You are not obliged to give them any details about what you're doing (there are RNLI lifeguards at the bottom of the path down too), as they are not an official emergency service. If you do want to give them your details, allow a generous dive time as they are prone to panic. Sadly the Coastwatch (mature volunteers) are at odds with the Lifeguards (young people) both can help contact other services, but the Lifeguards will venture into the water and have oxygen!
This site is very varied, due to the fresh water springs bubbling up through the chalk. It contains more species of seaweed than any other site in East Anglia and is packed with lobsters and edible crabs, feeding on sand mason worms. The more rugged chalk is to the west of the boat slip, though it may be easier to get in straight in front of it, as there are less wobbly flints there.
Initially chalk plain mostly covered by sand, this again becomes more rugged with depth, with gullies up to 2m high 2-300m out. There are at least two working boats that use the slip and lots of jet skis and small boats in the summer, so always carry a DSMB and listen out for traffic overhead.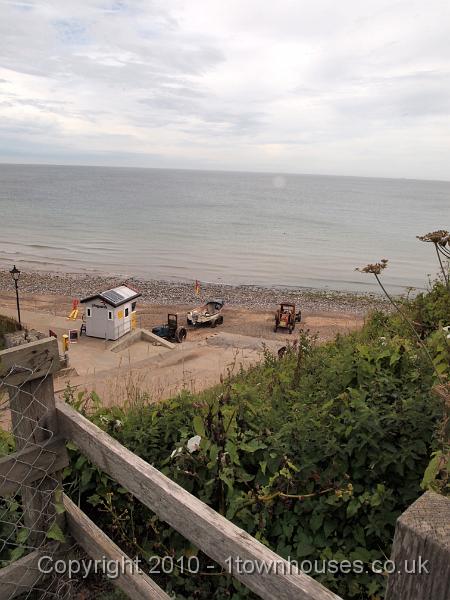 East Runton: The view down from the cark park - the Lifeguard hut and fishing boats (L) and a squat lobster (R)


Overstrand

This site often only has visibility on a high slack. The waves tend to bounce worryingly off the concrete walls at high tide, but there's usually no power in them, and you can get in more easily by going along the beach to the next groyne. This is a strange site containing many seabed types, which never seem to be where you left them! We generally park on Cliff road as close to the excellent cafe as we can get, but there is also a big P&D car park with toilets. From the cafe, take the long, steep, winding path down to the promenade. This is tarmac, so you could use a trolley for gear. Directly north from the bottom of the path is a long stretch of sand with little cuttles and weever fish, which the chalk gradually emerges from. Your experience will vary greatly from this point, depending on your heading. Slightly to the east is a plain containing huge tall chalk and flint boulders on sand leading to shingle pressed into clay, with small boulders covered in weird life. Straight north is an abandoned pipe with loads of lobsters and prawns. Slightly to the west is a plain of clay which was the bottom of an ice age lake – it's now heavily striped and full of holes, very alien! Further to the west is a plain of medium hard boulders (possibly ship's ballast), with loads of fan worms, hydroids and nudibranchs. The zig-zag path seems even steeper on the way up - take a break on the bench half way up.


Drifting the chalk gullies

Any group considering this as a trip should note that with small boat cover the chalk gullies can be dived as drifts between slacks and can make for a very full day of non stop diving. They too are shallow, 4-12m, and packed with life. There's normally a line of lobster pots strung along this area. From our recent boat explorations it would seem that you need to go further along than our old club used to recommend, about 1km from Weybourne beach and about 200m out heading east.



Mini-drifts



If you are between slacks, doubt your calculation or want to cover some ground you can intentionally plan to dive off slack. To do this you need to be familiar with the tides as well as your entry and potential exit point(s). Locations where this is feasible include across the front of Weybourne, Sheringham or Overstrand. It is best to consider this only after you have dived the entry and exit areas and know the potential pitfalls. For example West Runton isn't a good option as a narrow band of beach suitable for entry is flanked by rocky areas unsuitable for exit.

The suggested returns from the Vera and Rosalie after slack are a good way to get used to what the current feels like when it stands to run and the distance you can cover.




Safety



Diving remains a very safe activity, divers are trained and as long as they are aware of their own fallibility and the power of the sea nothing nasty needs to happen!

To avoid false alarms and aid rescue if the worst does happen there's a voluntary code of conduct for diving the area. This way the Coastguard can respond to calls about us by already knowing what's up!

1) If you don't have shore cover? Then call the Coastguard - Humber for Norfolk on 01262 607 317 (This seems to have changed!)


The Coastwatch or Lifeguards can act as shore cover but they do tend to go home before teatime!



2) Give a return time - the end of the your diving day not your exact ETA - and do call back in.


Giving a precise return time is;
a) prone to causing alarm if there is the slightest confusion
b) pointless since the alarm will raise a search party not diver treatment team.



3) Leave a number so they can check if you forget.


They will try to track you down if you don't so save them the trouble!


Why this is the suggested procedure...


It's extra hassle but so is meeting 35 anxious hi-vis people. After some false alarms and malicious activity I'd suggest you stick to this code. It has been suggested that divers might put signs in their cars but given the rhetoric from some of the local fishermen I wouldn't. Nothing has happened recently but in the past there were tales of tyres being slashed over the belief that crabs and lobsters had been taken from pots. I think the perfect way to deal with that accusation is not to take any risk at all!





Managing surface risks during dives



Despite the prevalent belief amongst the fishermen diving is pretty safe even if one of the small number of boats is in the water.


1) Diving is not like standing next to a busy road as fast cars race past, it is like walking in a wood with a tractor passing on the far side of a field.
2) Dragging a surface marker around throughout a dive is a pain, will foul any ropes and lines and tends to attract boats
3) Stay close to the sea bed when anything is passing, face down cylinder up
4) Send up your delayed surface marker buoy if you are worried about surface traffic, ascend right under it.



There is no need to have a surface marker up all the time but carrying a DSMB should be mandatory.



Shore diving entry and exit



Some people are naturals at shore diving, while others make a massive meal of it. When entering through waves on steep gravel you want to be standing at least waist deep before you try to put your fins on. Ideally you'd be ready to touch down and run as you take them off to get out. The latter is harder to learn. Everything you would prefer to own after you exit the sea should be attached (admittedly a hand for each fin is often enough). Too many people treat it as a competition, try to help each other - one diver can hold gear whilst the other makes for shore and de-kits when they'll be able to help unload their waiting buddy.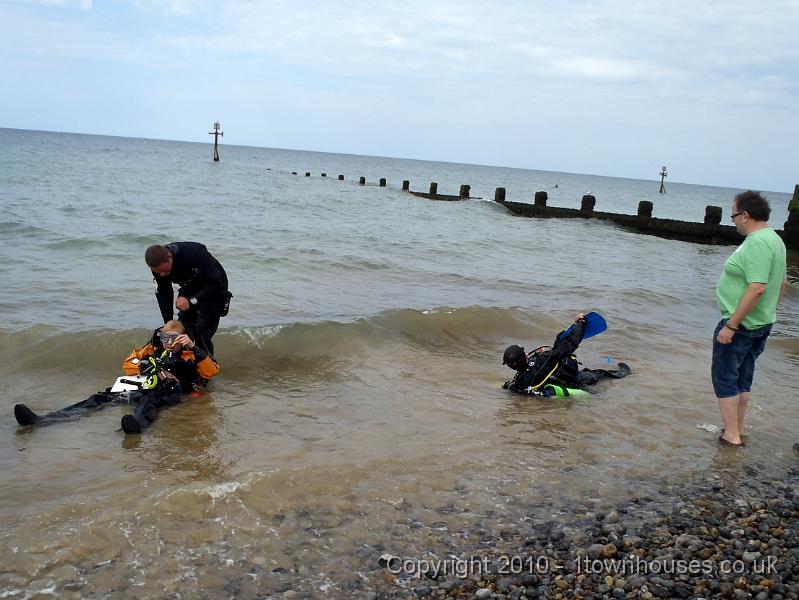 These were the biggest waves all day and still caused problems - when entering through waves which can knock you down you need to be better prepared!




Be a diving ambassador!



As diving is associated with conservation some of the fishermen tend to be looking for an argument whenever you appear - some are pleasant and interested. Likewise some of the RNLI crew can be tricky while most are a pleasure to meet. Try stay upbeat about the wildlife rather than get drawn into the debates where they 'know best', they haven't seen the seabed like you have and haven't been through dive training. Walkers and beach folk tend to be interested too and love to hear about the reef - don't pretend to be Monty Halls valiantly defying death, be honest that it's warm, shallow but can be hard work.

Try to be polite and patient, all divers get tarred with the same brush if we are loutish or behave badly. I would leave the crabs and lobsters (and everything else) where they are. If you are standing up in a grands worth of gear why try to save a couple of pounds on a crab? There are shops full of them in the local towns.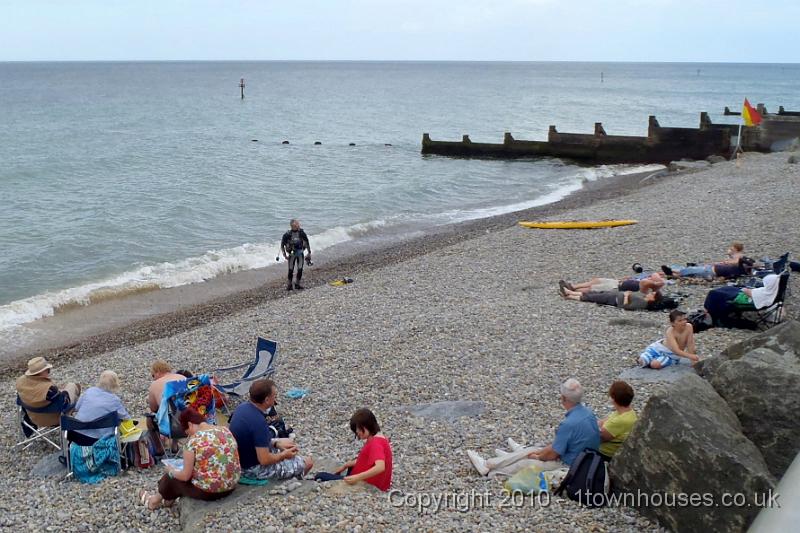 As a diver you may find yourself the centre of attention - make it count!




Dive weather conditions



An ideal weekend is preceded by still air or gentle (less than force 3 really) off shore winds, any suggestion of northerlies in the week leading up can, at the very least, spoil the vis or leave vigorous rollers making the shallows very hard to negotiate with elegance. Entry conditions are just half the equation as you'll actually be more grateful of an easy time at the end of the dive when you need to get out. Many of the beaches are steep gravel and although you can 'surf' in supported by your suit and jacket, hitting a 45 degree wall of gravel isn't everyone's idea of the perfect way to end a dive. The gravel beaches; Cley, Weybourne and Sheringham tend to be cleaner than the sandy ones; West and East Runton and Overstrand.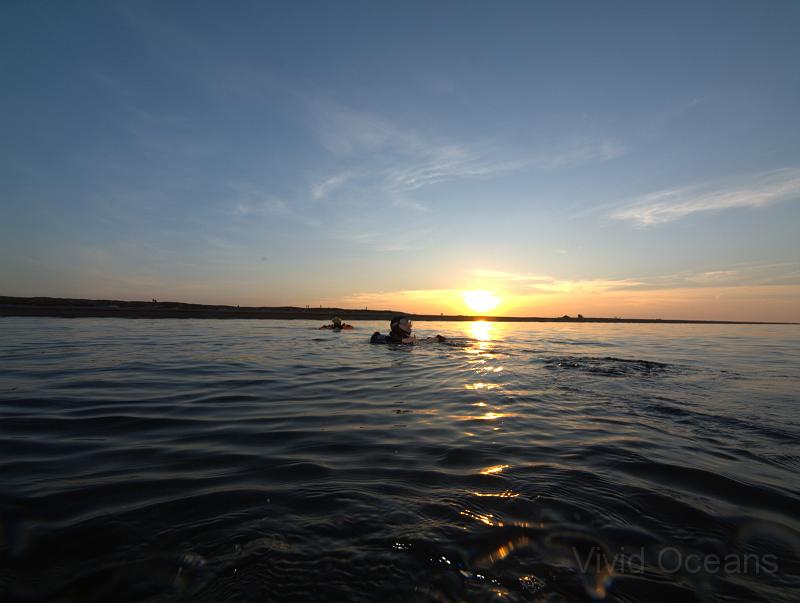 Cley: The swim back is more fun when the tide carries you most of the way :-)




Conclusion


In East Anglia we are somewhat short of sites for training and practice so dives tend to be full on RIB adventures or blown out. The chalk reef is a very pleasant alternative for divers of any grade who just want a chance to get wet. Their depth and wildlife can make for an enjoyable, low stress dip but don't be fooled into thinking you can bank on them. As they are so close to shore the vis can be gone in no time at all and any element of northerly wind and the vis and the sea will be unsuitable for all but the desperate.

We'd suggest these dives as a good option for Seasearch Observer students looking to complete their two supervised qualifying dives. Of course any dive can be a Seasearch dive but these are simpler to arrange than most. We're very pleased that there's been plenty of interest and we'll make every effort to support anyone who would like to dive the sites when we are around. We're happy to brief on the sites and suggest a dive plan but remember you are responsible for your own dive... That certainly doesn't stop the sites being good and well within the capabilities of most divers.

Important stuff

We are easy to spot, either diving or eating biscuits.
Our mobile number is 0780 118 1964
Anyone aiming to do Seasearch would ideally bring a slate, pencil (obviously) and some Observer forms
Bring any ID books you have - we can sell you the excellent ID Seasearch guide and usually have slates too
This coast is very vulnerable to north/north east winds, we won't dive if the conditions are suspect.
Although public domain please credit us if you use this information and include a link back here

We've dived this piece of coast for 17 years now and have numerous galleries from our trips which will give you an idea of what you might see. They're in amongst our UK galleries.




Dawn and Rob




Seasearch East